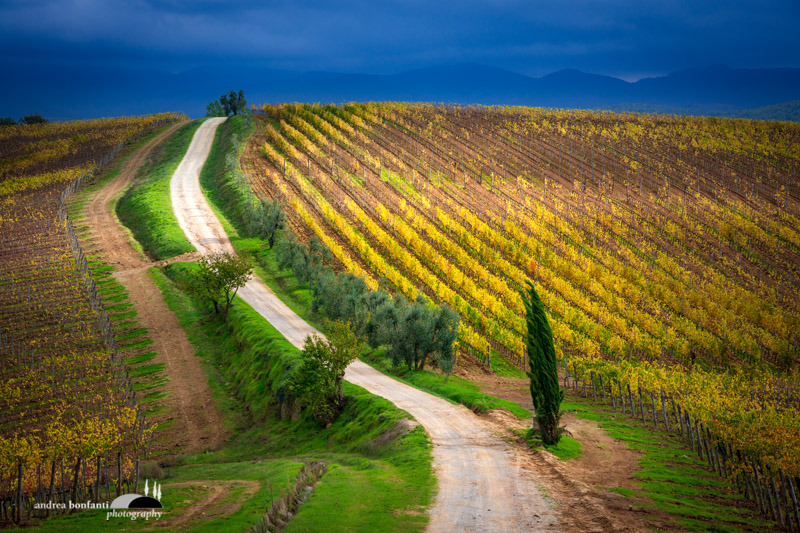 Chianti Villages and Vineyards
An unforgettable photographic journey in the heart of Tuscany, experience a landscape of amazing vineyards and historical hamlets in the surroundings of Radda, Gaiole and Castellina in Chianti, real gems of the Tuscan countryside.

Early in the morning (Sunrise Tour) or in the Golden Hour (Sunset Tour), we'll shoot around the vineyards surrounding Gaiole and Radda overlooking very scenic but unusual spots. The chromatic tonal range in Autumn varies from light greens to red, becoming bright yellows and rust colored. Cypress trees and vineyard dark greens spotted by yellow flowering broom in springtime. We'll emphasize this natural palette of colors by using backlight plus raking light.

In late September we can shoot the grape harvest. When the sun is higher in the sky we'll move into a village (Volpaia, Castagnoli, Vertine, San Gusmè... no lack of choice!), where reflected light is perfect for warm-toned photographs.

This Tour is available only moving from Siena or surroundings.

By car, through scenic and sometime unpaved roads (so called "strade bianche")
max 4 people
lenght of the tour: about 3 hours and half
cost of the tour: starting from 200€ (cost per tour, not per person)

Meeting time: to be defined (Sunrise or Sunset Tour)
Meeting place: at an agreed point in Siena or directly at your farmhouse
At the end of the tour you will be driven back to the starting point.


---